Description
Estimate Shipping Costs
Reviews(0)
After-sales service
MICRO MWC Flight control board is specially designed for micro 4-Axis(QUADX,QUADP,Y4), it comes with a 6CH DSM2 compatible receiver and 4CH brushed ESC, so it can support 4-Axis of super light and supper small flight.
The physical parameter of MICRO MWC flight control board:
1) Size:32.0 *20.0 *4.8 mm;
2) Weight:1.8g(not including power wires);
3) Size of the mounting hole:Φ1.0mm
Notes:D3, D9, D10, D11 can drive brushed motor directly;
Major components of MINI MWC flight control board
1) ATMEGA328P;
2) MPU6050;
3) CYRF69103;
MINI MWC flight control board working voltage: 3.6~4.2V(1S lipoly battery is recommended);
Recommended transmitter: supports DSM2 compatible transmitter of 4CH or above (6CH transmitter is recommended);
MINI MWC flight control board support the following modes:
1)4 Axis(QUADX,QUADP, Y4);
2)6 Axis(Y6,HEX6,HEX6X;
Micro MWC Flight control board firmware updating way:
Open " arduino.exe", set up Micro MWC flight control board files according to your request or select "#define MX_MICRO_MultiWii" directly, then click

and compile the software.
As soon as it is finished, connect the FTDI programming stick tool with Micro MWC and computer, press the checking pin of FTDI programming stick tool on the point (please check circled place from below picture), select serial port and click

, software starts burning, please release and remove the checking pin when the red and green LED blinks constantly, when the red LED and green LED don't blink any more and " arduino.exe" reminds "Done uploading" which indicates the software is burnt and completed.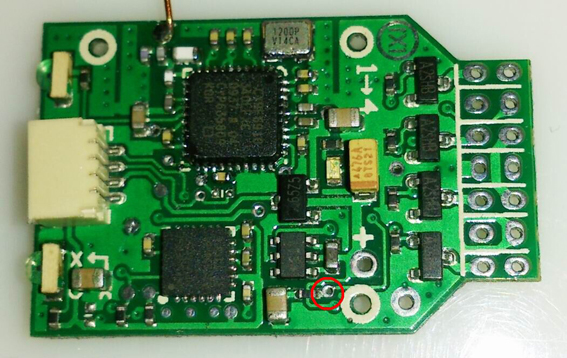 ---
There are currently no product reviews.
NOTE: Reviews require prior approval before they will be displayed
All goods are not marked are three packs of shops
Customer Videos: See all 0 videos
Customer Images: See all 0 images
Tuesday 26 May, 2015
This product was added to our catalog on Tuesday 26 May, 2015.
synageva